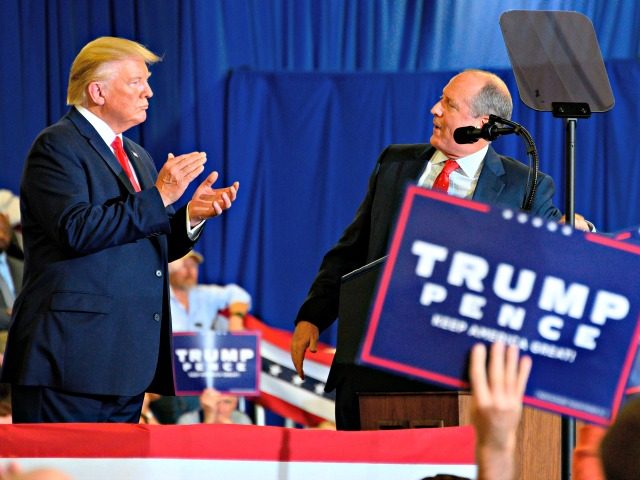 9 Sep 2019 37 1:33
President Donald Trump told supporters Monday that he was primarily running against the media in 2020, as they were teaming up with Democrats to defeat him.
"I wouldn't mind fighting the Democrats, but we really have to look at it as a twosome — the media and the Democrats, it's one and the same," Trump said.
The president spoke at a political rally in Fayetteville, North Carolina ahead of Tuesday's special election for the Ninth Congressional District of the state.
The president pointed to August news narratives warning of a looming "recession," before good job numbers in September ended it.
"They tried to do the recession thing, they tried the Russia thing, that didn't work, they tried many other things," Trump said. "I always say, the media and their partner, the Democrats."
Trump invited Republican candidate for Congress Dan Bishop to the stage, who also condemned the media.
"We've all watched as the Democratic party, the socialist Democrat party, seeks the president's destruction every day," Bishop said, as the crowd booed. "We've seen a dishonest media serve as their handmaidens and their allies in that mission."
Bishop praised Trump for being a "fighter" in the White House, representing the people that voted for him.
"We've watched as the best fighter ever to have occupied the White House has pushed them all off," he said as the crowd cheered wildly.
2020 ElectionMediaPolitics2020 electionDan BishopDonald TrumpNorth CarolinaNorth Carolina 9th Congressional District Ads by Revcontent
Trending Today
Remember Her? Take A Deep Breath Before You See What She Looks Like NowAlbany Daily NewsLisa Kudrow's Daughter Faces Life in Prison, Here's WhyMommyThingThe Next Tech Unicorn Is Coming After GoogleOilPrice.comEvery Woman Used To Dream Of Marrying This Former Actor. Guess Who He IsCity Of Edmonton NewsAdorable Lioness Saved By A Human Family. What Happen Next Was IncredibleBuzzworthyReality TV Shows That Are Completely FakeUpbeat NewsRanking the 25 Deadliest Roads in the WorldUpbeat News
.
Please let us know if you're having issues with commenting.
SOCIAL
MOST POPULAR
FROM THE HOMEPAGE