Donald Trump is threatening legal action against NBCUniversal for what he alleges are "false and defamatory" comments about his loans with Deutsche Bank, but legal experts say any attempt to sue the network would likely be unsuccessful and even potentially damaging for the president.
The saga began on Tuesday night when MSNBC host Lawrence O'Donnell reported during his show, The Last Word With Lawrence O'Donnell, that a "source close to Deutsche Bank" told him that Trump's loans were underwritten by "Russian oligarchs" close to Vladimir Putin.
"If true, that would explain every kind word Donald Trump has ever said about Russia and Vladimir Putin," O'Donnell said. At several times during the segment, O'Donnell said that the information had not been vetted and that it had come from one source. Later in the show, O'Donnell explained that he has not seen any documentation to confirm the information given to him by the source and that NBC News had not vetted the source, any documents, or the information given to the MSNBC host.
On Wednesday, MSNBC booking producer Michael Del Moro followed up with a tweet to say that the source also has not seen any documents from Deutsche Bank that would prove the information shared with O'Donnell.
"Deutsche Bank is declining to comment on Lawrence O'Donnell's reporting that Russian oligarch's co-signed Trump's loans. The information came from a single source who has not seen the bank records. NBC has not seen those records and has not yet been able to verify the reporting," Del Moro wrote.
Later Wednesday, Trump attorney Charles Harder sent a letter to NBCUniversal, MSNBC and NBC News' parent company, in which he threatened to file a defamation lawsuit if the company refuses to "retract, correct and apologize for" O'Donnell's comments. Harder also argued that the accusations can easily be disproved and that NBC neglected its due diligence for "political reasons or other ulterior motives."
Legal experts say Trump's lawsuit would likely be unsuccessful but, if he were to sue, it could ironically lead to a "fascinating level of discovery" about his finances — a topic the president has tried to keep hidden from public view.
"It goes without saying that if O'Donnell's claim is true, then the president has no case," Bradley Moss, a national security lawyer, told Newsweek. "Even if the claim is false, however, any lawsuit would rise or fall on the extent to which NBC did sufficient due diligence prior to the broadcast."
Former federal prosecutor Michael J. Stern also told Newsweek that "under these facts, the likelihood of Trump succeeding in a lawsuit is about the same as a suit by a soggy picnic-goer who gets rained out after the weatherman promises sunshine."
Following the letter to NBC from Trump's legal team, O'Donnell tweeted on Wednesday afternoon that he made "an error in judgment" in his reporting on the president's bank loans. The MSNBC host wrote that he would elaborate further during his nightly broadcast.

"O'Donnell has not withdrawn the substance of his claim. Instead, he's indicated that he should have gone through the more rigorous verification process required by MSNBC. It's this type of thoughtful reconsideration that distinguishes MSNBC from the typical Fox double down," Stern noted.
If Trump were to move forward with a defamation case against the network, the very information he has been fighting Deutsche Bank and Congress to be kept private would be at the center of attention.
"Needless to say, there would be a fascinating level of discovery in such a lawsuit," Moss said. That information would include "depositions of the president and his financial advisers, as well as likely production of relevant loan documentation that the president is separately suing to prevent Deutsche Bank from turning over to Congress."
It's not the first time that Trump has threatened legal action against news organizations for inflammatory coverage.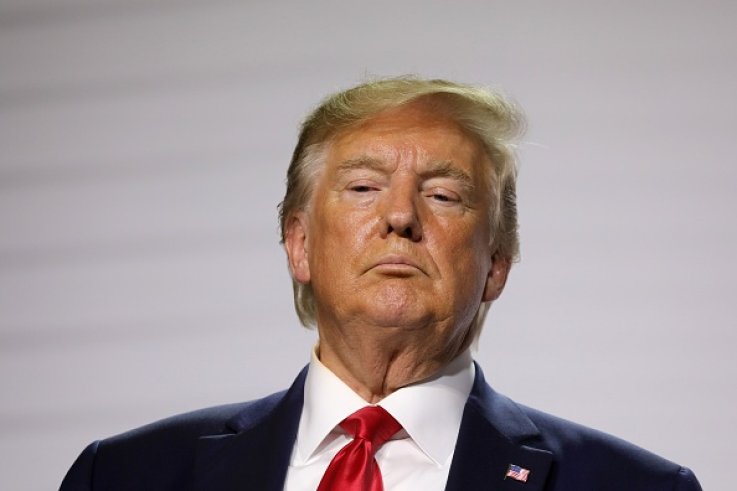 In 2016, then-candidate Trump said he was thinking about suing NBC for the leak of the infamous Access Hollywood tape, but the suit never materialized. The resurfaced 2005 recording included Trump bragging in vulgar terms about trying to have sex with women, saying you have to "grab them by the p***y."
Trump has also threatened to sue The New York Times after the newspaper published a damning report on how he accumulated his wealth. The investigation showed Trump and his family may have avoided paying taxes and other schemes to amass their riches.RELATED STORIES
Trump's attorney stated at the time that Trump might sue, claiming the "allegations of fraud and tax evasion are 100 percent false and highly defamatory." But the president never took further legal action.PROMOTED CONTENT
1/2 Cup Of This Each Morning Will Eat Your Belly Fat Like Crazy!New Dental Implant Options You Can Check Outsay-dental-implants-ok.liveFarmington Senior Citizens Are Finding Great Living Options Heresenior livingDrink 1 Cup Before Bed, Watch Your Belly Fat Melt Like Crazyketopureselect
The same thing happened when The Washington Post reported on the collapse of his Atlantic City casino and when Simon & Schuster published Michael Wolff's book Fire and Fury. However, no lawsuits were filed.
"People with secrets should be very careful about threatening lawsuits. Discovery in a lawsuit is often the best way to prove the emperor has no clothes," Stern warned.REQUEST REPRINT & LICENSING, SUBMIT CORRECTION OR VIEW EDITORIAL GUIDELINES