CNN's Very Bad Week THREE On-Air Personalities Are Embroiled In Troubling Controversies
by DCWhispers
DCWhispers.com / 2019-08-14 18:42
With ratings that continue to be in the toilet, how long will CNN management be allowed to keep their jobs? This week the 24/7 news network's troubles were even worse as no fewer than three high-profile on-air personalities were embroiled in controversy.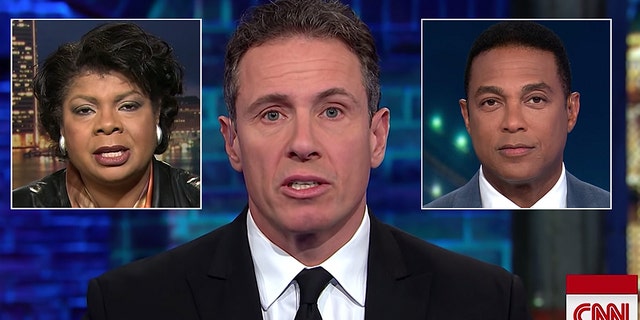 ABOVE: April Ryan, Chris Cuomo, and Don Lemon all had very-very bad weeks. From watching as a reporter is forcefully removed from a gathering she was speaking at (Ryan – see video below) to threatening physical harm to a man who called him "Fredo" (Cuomo) to sexual assault claims filed against him. (Lemon)
Via Fox News:
"This was not a good week to be CNN. In addition to its abysmal ratings, three of its top news personalities are embroiled in scandal and controversy," Cornell University Law School professor and media critic William A. Jacobson told Fox News.
The liberal news network started off the week making headlines for the wrong reasons. "CNN Tonight" host Don Lemon was accused in a civil suit of a sexually charged assault of a bartender in New York's posh Hamptons area last year. The same evening that the Lemon news broke, on Tuesday, video circulated of CNN political analyst April Ryan looking on while a local news editor appeared to be violently removed from an event where she was a keynote speaker.
"In a rational world, CNN leadership would implement a dramatic course correction, but there is no sign that rationality prevails at CNN," he said.
While CNN defended Cuomo, the president had a different take on the profanity-filled rant.
"I think what Chris Cuomo did was horrible. His language was horrible, he looked like a total out-of-control animal. He lost it," Trump told reporters. "Chris Cuomo is out of control. I watched it, I thought it was terrible… you've never seen me do that."
The CNN host is the younger brother of Andrew Cuomo, the Democratic governor of New York. But Cuomo's outburst over being referred to as "Fredo," a reference to Fredo Corleone, the weak and facile brother in the movie "The Godfather," has been labeled hypocritical because several CNN personalities have used the exact reference to mock President Trump's children.
CNN's public relations team called the remark "an ethnic slur" and Cuomo compared it to "the N-word" for Italians. But CNN and the "Cuomo Prime Time" host didn't seem to think the word was some sort of vile smear in the past.
The New York Post unearthed an old video in which Cuomo playfully referred to himself as "Fredo" during a 2010 radio interview and CNN's Ana Navarro used the moniker to belittle Donald Trump Jr. earlier this year on Cuomo's very own show. Cuomo didn't reprimand Navarro for using the term that he now feels is equivalent to "the N-word." CNN anchor Jake Tapper has also used the term, while CNN legal analyst Paul Callan used it in an op-ed earlier this year.
.@ananavarro slams Don Jr. for likening border wall to zoo fence: He's an "entitled, rich, spoiled little brat whose only call to fame is being his daddy's son."
"[D]addy kept Fredo back home…Who cares what [he] says. I don't want to talk about that entitled little brat." pic.twitter.com/zpTtp8ZfAd

— Cuomo Prime Time (@CuomoPrimeTime) January 10, 2019
In fact, CNN pundits and guests have used the term "Fredo" so much that the Washington Free Beacon put together a montage of various times it was uttered on the liberal news network.
Houck added CNN's troubled week "started with Jake Tapper allowing Beto O'Rourke to say without pushback that tens of millions who voted for Donald Trump are racist and arguably condone white supremacy" on Sunday before the Cuomo, Lemon and Ryan stories unfolded.
"It was quite embarrassing," Houck said.
Lemon denied the allegations against him and Cuomo said he should have been "better than the guys baiting me."
CNN has not responded to requests for comment on the Ryan video.
———————-
Here now is that April Ryan video in question where the CNN contributor tells the audience she "doesn't allow" any media to film her speeches. The reporter (who was an invited guest) is then forcibly removed. (at approximately the 1:00 mark) Ryan's Gestapo-like approach has once again left the troubled news network scrambling to try and spin what is clearly yet another embarrassing example of the elite media's sense of entitlement and penchant for violence when they perceive that entitlement to be threatened.
---