https://insider.foxnews.com/2019/04/25/jason-chaffetz-blasts-eric-swalwells-repeated-collusion-claims
'Somebody's Gotta Come in Last': Chaffetz Blasts Dem Candidate's Repeated Collusion Claims
Apr 25, 2019 // 1:36pm As seen on America's Newsroom
Former Republican congressman and Fox News contributor Jason Chaffetz blasted Rep. Eric Swalwell's (D-Calif.) continued claims of Trump-Russia collusion.
During an MSNBC interview, the 2020 presidential hopeful was pressed by host Ari Melber, who pointed out that the Mueller report does not back up Swalwell's past claims about Trump's ties to Russia.
Swalwell refused to back off the claims, asking whether Trump could be "blackmailed by Vladimir Putin," since he was "blackmailed by a porn star" and accusing Trump of repeatedly "act[ing] on Russia's behalf."
Melber responded that the Mueller report does not support claims of a conspiracy or financial links, as alleged by Swalwell.
---
---
Responding on "America's Newsroom," Chaffetz said it's "surprising" that networks keep interviewing Swalwell, because he offers no further evidence or new information.
He agreed with Newt Gingrich that many of the Democratic presidential candidates are "desperate to make noise" to try to stand out in the crowded field.
---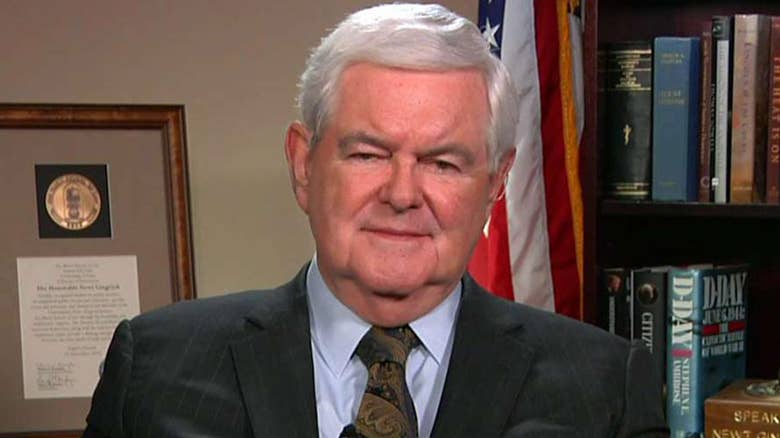 ---
"Swalwell has never let facts and evidence and witnesses ever get in the way of a good story. … Now he's running for president and hey, somebody's got to come in dead last and that's where he's headed," said Chaffetz, adding that the evidence is "just not there" in Special Counsel Robert Mueller's report.
Chaffetz, who chaired the House Oversight Committee from 2015 to 2017, also weighed in on the subpoena fight unfolding between the White House and House Democrats.
The White House has vowed to fight subpoenas for documents and testimony from officials like adviser Stephen Miller and former White House counsel Don McGahn.
"We're fighting all of the subpoenas," President Trump said Wednesday. "Look, these aren't like, impartial people. They are Democrats trying to win in 2020. … They're not going to win against me."
Chaffetz said the White House "enjoys executive privilege" and can exercise that right just as the Obama administration did when Republicans controlled Congress.
Watch the interviews above.
---
Tucker Carlson: 2020 Dems Competing for Gold in the 'Victimhood Olympics'
Nat'l Border Patrol Council VP: Dems Acknowledge Border 'Crisis,' But Are Doing Nothing About It
Subscribe
Stay connected with the most-watched, most-trusted name in news.
Send me email updates from Fox News. I can opt out at any time. By signing up below, I agree to the Fox News Privacy Policy and Terms of Use. Questions? Contact Fox News. SubmitSponsored StoriesThe Best Online Degrees For Seniors – Fast And CheapOnline Degrees | Search AdsGabourey Sidibe Is So Skinny Now And Looks Like A Goddess – We Can't Stop Staring (Photos)Military BudThe Shortest Men In HollywoodThe Deliteby TaboolaAd ContentMore from Fox News InsiderPavlich on Kamala Harris' Gun Control Push: No President Can 'Wipe Away 2nd Amendment Rights'Social security: Democrats push to increase the retirement program benefitsFox BusinessJarrett: Hillary Clinton's Comments on Mueller Report Show 'Breathtaking' HypocrisyAd Content by Taboola
Latest from Fox News Channel
Share
Share
Share
Share
Load MorePopular ArticlesPavlich on Dems Probing Obstruction: What Are They Gonna Find That Mueller Didn't?Alexandra Ocasio-Cortez' 70 percent tax rate the first step in taking on taxpayers?Fox BusinessSen. Graham: 'Stampede' by House Dems to Impeach Trump Will Result in His Re-ElectionAd Content by Taboola
Connect with Fox News
Don't want to keep checking back here for the latest from Fox News? That's cool. We'll come to you …
Subscribe
Stay connected with the most-watched, most-trusted name in news.
Send me email updates from Fox News. I can opt out at any time. By signing up below, I agree to the Fox News Privacy Policy and Terms of Use. Questions? Contact Fox News. Submit
This material may not be published, broadcast, rewritten, or redistributed. ©2019 FOX News Network, LLC. All rights reserved.