Barack Obama's brother asks if Michelle is 'Michael'
WNDMarch 18, 2019 1:06 pm
Malik Obama, the half-brother to Barack Obama, has been known to throw verbal bombs before, on social media and such.
He's at it again.
This time he's wondering about Michelle Obama, Barack's wife.
Malik Obama, who a long time ago released the image of a birth certificate for Barack – from Kenya – fueling more questions about his birthplace, simply asked "Is Michelle Michael?"
There have been others who have made similar allegations, including Alex Jones of Infowars, who once was reported by the Independent to have said, "Since the early days of the Obama administration, citizens across the board have studied videos and photos of Michelle Obama and said that she is a man."
The subject also at one point drew a comment from the late Joan Rivers, whose outlandish statements were legion.
On the YouTube page with her video was the comment, "People claim she was joking but you can clearly tell she was dead serious. She doesn't even show any signs of sarcasm."
James Ray added, "She was so awesome, but because she spilled the bean, they killed her."
Rivers, in fact, died from complications of elective surgery a few weeks after making the comment.
Malik Obama is not without his own reputation for stirring trouble.
Reported the Mirror, "In 2017, Malik Obama tweeted an image of what appears to be Barack's birth certificate. Except it's not from Hawaii, but rather Kenya."
It's from "Coast Province General Hospital" in Mombasa, British Protectorate of Kenya, and is for Barack Hussein Obama II, who was born on the "4th day of August, 1961."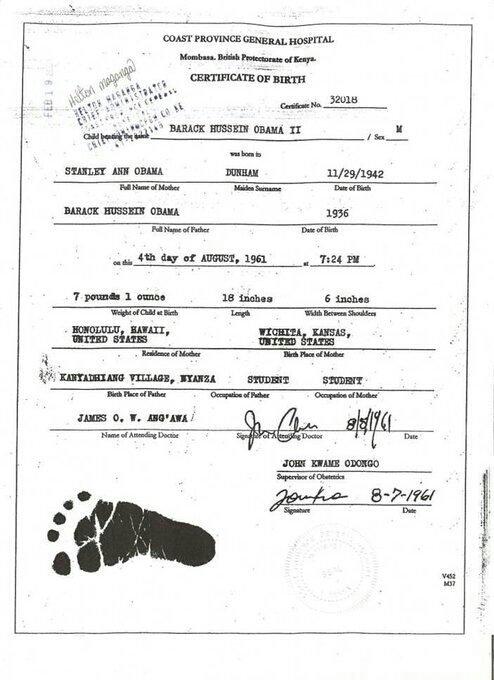 Surely. What's this?
Obama's White House released a different image, stating that it was his birth certificate, which could have impacted the legitimacy of his presidency based on the Constitution's demand the president be a "natural-born citizen."
That term was not defined in the Constitution, and the issue hasn't been addressed directly by the Supreme Court.
Here's the image from Obama:
Online, the comments went wa-a-a-y beyond.
"We definitely know that Barack wasn't born in Hawaii so I suspect there is wayyy more to the story," said RedPill Awakening.
Torrey Grossman responded with a lot of understandable skepticism: "Is this true?? What evidence is there? If so, this is unbelievable massive…."