Nothing is considered "off limits" for Democrats scratching and clawing in their desperate and tasteless attempts to further delay the confirmation of a conservative Supreme Court Justice before the 2018 midterm elections. I personally believe that their latest attempts border on criminality, or Senate misconduct at the very least.
With the fate of President Donald Trump's Supreme Court nominee suddenly uncertain, emboldened Democrats clashed with cautious Republicans on Monday as both parties grappled with an increasingly messy nomination fight weeks before the pivotal midterm elections.
[rve src="https://nbclim-f.akamaihd.net/i/Prod/NBCU_LM_VMS/415/575/Kavanaugh_Accuser_Goes_Public_Senate_Divided-1537187423570_,medium,high,low,.mp4.csmil/master.m3u8https://oldamericannews.files.wordpress.com/2018/09/stream2.mp4″ ratio="16by9″]
The political implications were still being sorted out. But with control of Congress at stake this fall, there were tremendous risks for both sides.
The GOP risked further alienating female voters — particularly in the nation's suburbs — by embracing Trump's hand-picked Supreme Court nominee, Brett Kavanaugh, after an allegation surfaced over the weekend of decades-old sexual misconduct. Democrats, who seized on the development as justification to delay the high-stakes nomination, could energize complacent Republican voters if they're viewed as playing politics with the sensitive allegation.
[arve url="https://snappytvpoc-vh.akamaihd.net/i/media/video/NBC_News/390/675/153718429,1049_tdy_news_guth_kavanaugh_accuser_attorney_180917_2,1487_tdy_news_guth_kavanaugh_accuser_attorney_180917_6,2939_tdy_news_guth_kavanaugh_accuser_attorney_180917_5,3431_tdy_news_guth_kavanaugh_accuser_attorney_180917_4,1979_tdy_news_guth_kavanaugh_accuser_attorney_180917_3,2494_tdy_news_guth_kavanaugh_accuser_attorney_180917_1,.mp4.csmil/master.m3u8?__autoplay__=0″ thumbnail="7069″ /]
Amid the chaos, a key question quietly emerged among some political operatives: Would Republicans force through the Kavanaugh nomination even if it jeopardizes their control of Congress? For some, the short-term political pain might be an acceptable tradeoff for a generation of conservative control on the nation's high court.
President Donald Trump said Monday that the vote to confirm Judge Brett Kavanaugh to the Supreme Court may take longer than expected following a woman's claim that the judge sexually assaulted her at a party when they were both in high school.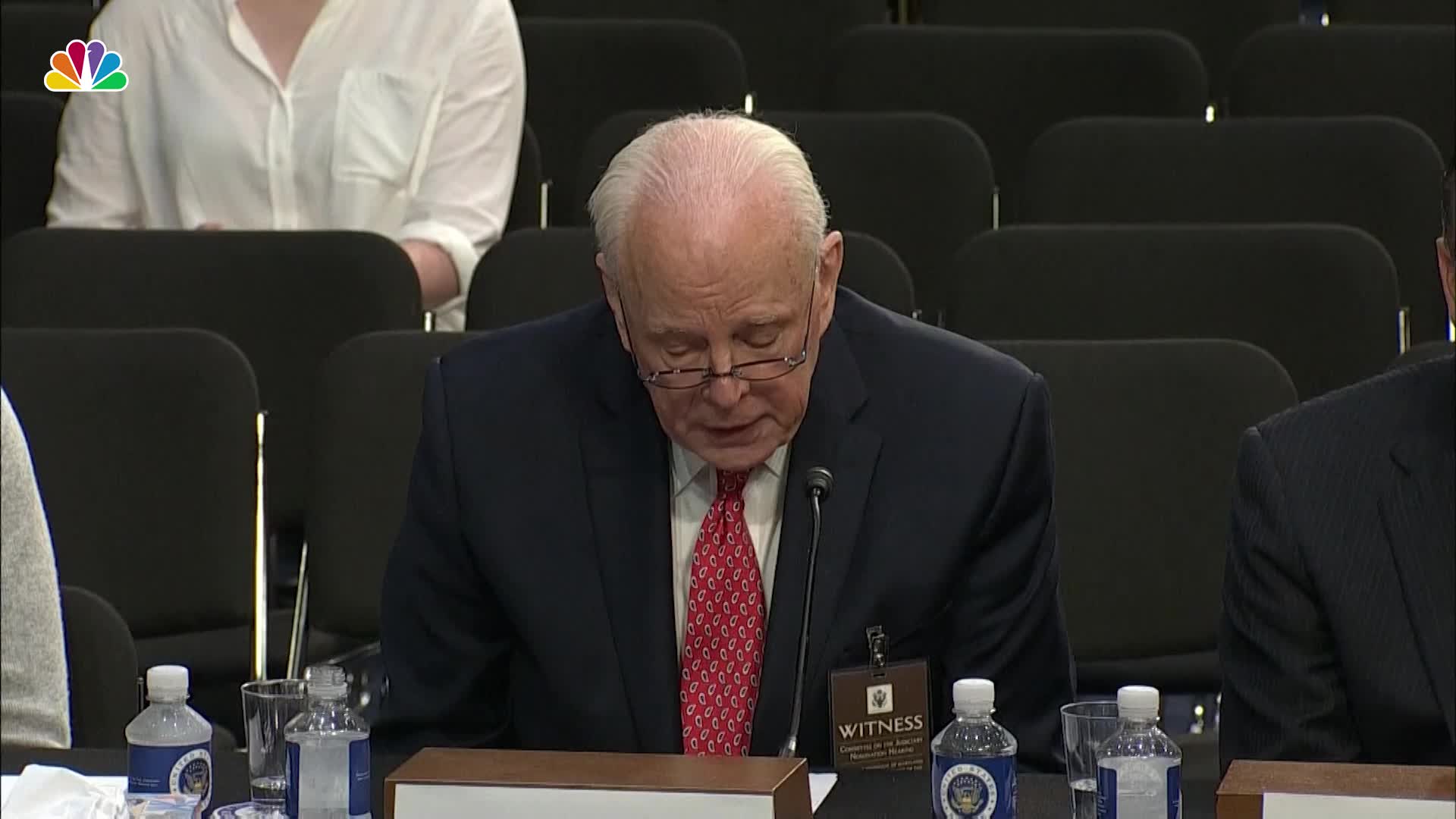 (Published Monday, Sept. 17, 2018)
The situation is fluid to say the least.
"At this very moment, the issue is moving so fast that accurate predictions are difficult to make," said Steven Law, who leads the super PAC aligned with Senate Majority Leader Mitch McConnell. "I think it's likely this will inflame partisan energy on both sides."
Christine Blasey Ford, now a clinical psychology professor at Palo Alto University in California, told The Washington Post that a drunken Kavanaugh groped her and tried to take off her clothes at a party when both were teenagers at high schools in suburban Maryland.
Hearing Sets Up Dramatic Showdown Between Kavanaugh, Accuser
Ford's attorney said Monday her client was willing to testify publicly about the allegations on Capitol Hill, where a key Kavanaugh confirmation vote was scheduled this week.
Kavanaugh, now 53, called the allegation "completely false" in a statement, adding that he "had no idea who was making this accusation until she identified herself" to the Post.
"I am willing to talk to the Senate Judiciary Committee in any way the committee deems appropriate to refute this false allegation, from 36 years ago, and defend my integrity," Kavanaugh said.
Former Nixon White House counsel John Dean urged a Senate committee on Friday to reject the Supreme Court nomination of Judge Brett Kavanaugh. Dean said, in part, "If Kavanaugh's confirmed, a president who shoots someone on Fifth Avenue can't be prosecuted in office."
(Published Monday, Sept. 10, 2018)
The developing situation threatens to exacerbate the GOP's rocky Trump-era relationship with suburban women, who are poised to play an outsized role in the districts that will largely decide the House majority this fall. Election Day isn't until Nov. 6, but early voting begins Friday in Minnesota and in roughly three weeks across several more states.
Vulnerable Republican House incumbents have largely avoided the issue, which flared Monday in northern Virginia's suburbs, where GOP Rep. Barbara Comstock is fighting for her political survival.
In a written statement, Comstock said Kavanaugh and Ford "should both testify under oath before the Judiciary Committee." The reaction came as her Democratic challenger, Jennifer Wexton, tweeted: "This is bigger than our politics and will impact whether victims can trust Congress."
Space Force Would Cost $13 Billion Over 5 Years: Air Force
In suburban Denver, vulnerable Republican Rep. Mike Coffman was more cautious. A spokesman said the five-term congressman "believes the committee and full Senate should thoroughly evaluate the claims and Judge Kavanaugh should address them."
Senate Judiciary Committee Chairman Chuck Grassley said his panel will hold a hearing next Monday with Kavanaugh and Ford. Republicans were eager to avoid images of Ford facing tough questioning from the all-male Republican membership of the Senate panel.
The situation could draw parallels with Justice Clarence Thomas' 1991 confirmation hearings when he faced allegations of sexual harassment from Anita Hill. The Senate ultimately confirmed Thomas, though public acceptance of sexual misconduct has shifted dramatically over the last three decades.
Seth Meyers takes a closer look at President Donald Trump's ex-campaign chairman flipping on him and the sexual assault allegations leveled against his Supreme Court nominee, Brett Kavanaugh.
(Published 3 hours ago)
Former Vice President Joe Biden, then the chairman of the Senate Judiciary Committee and a potential contender for the 2020 Democratic presidential nomination, has been criticized for his handling of Hill's allegations. On Monday, his spokesman, Bill Russo, said Biden "believes Professor Ford deserves a fair and respectful hearing of her allegations, and that the Committee should undertake a thorough and non-partisan effort to get to the truth, wherever it leads."
Some Democrats are using the development to go on offense.
In Nevada, where Republican Sen. Dean Heller is in a difficult fight for re-election, his Democratic challenger, Rep. Jacky Rosen, used the allegation against Kavanaugh to stoke doubt about Heller's judgment.
Trump Imposes Tariffs on $200B More of Chinese Goods
Heller said last week he had "no reservations" about voting to confirm Kavanaugh. Rosen was quick to suggest in July that Kavanaugh would pose a threat to abortion rights were he to be confirmed.
"If Sen. Heller still has no reservations about confirming Judge Kavanaugh to a lifetime appointment on the nation's highest court, then he isn't listening to Nevadans," Rosen said in a statement Monday.
And in Tennessee, where Democrat Phil Bredesen is trying to knock off Republican incumbent Sen. Marsha Blackburn, the Democrat insisted that Ford "should be heard."
Democrats — and some Republicans — have called for a delay in the nomination process until Ford's allegation could be investigated further. The development offered some respite to several vulnerable Democrats who are facing re-election in Republican-leaning states and who had avoided taking a firm position on Kavanaugh's nomination.
At the same time, Democrats also worked to avoid the perception they were politicizing the situation.
Trump Declassifies Documents Related to Russia Probe
A cautious Indiana Sen. Joe Donnelly, one of the nation's most endangered Senate Democrats, said the allegations "merit further review."
"Given the nature of these allegations, and the number of outstanding questions, I believe the Judiciary Committee should hold off on Thursday's scheduled vote," he said in a written statement.
While his Republican challenger had little to say about the new allegations, West Virginia Democratic Sen. Joe Manchin said both Ford and Kavanaugh should have an opportunity to testify before the Senate Judiciary Committee "as quickly as possible."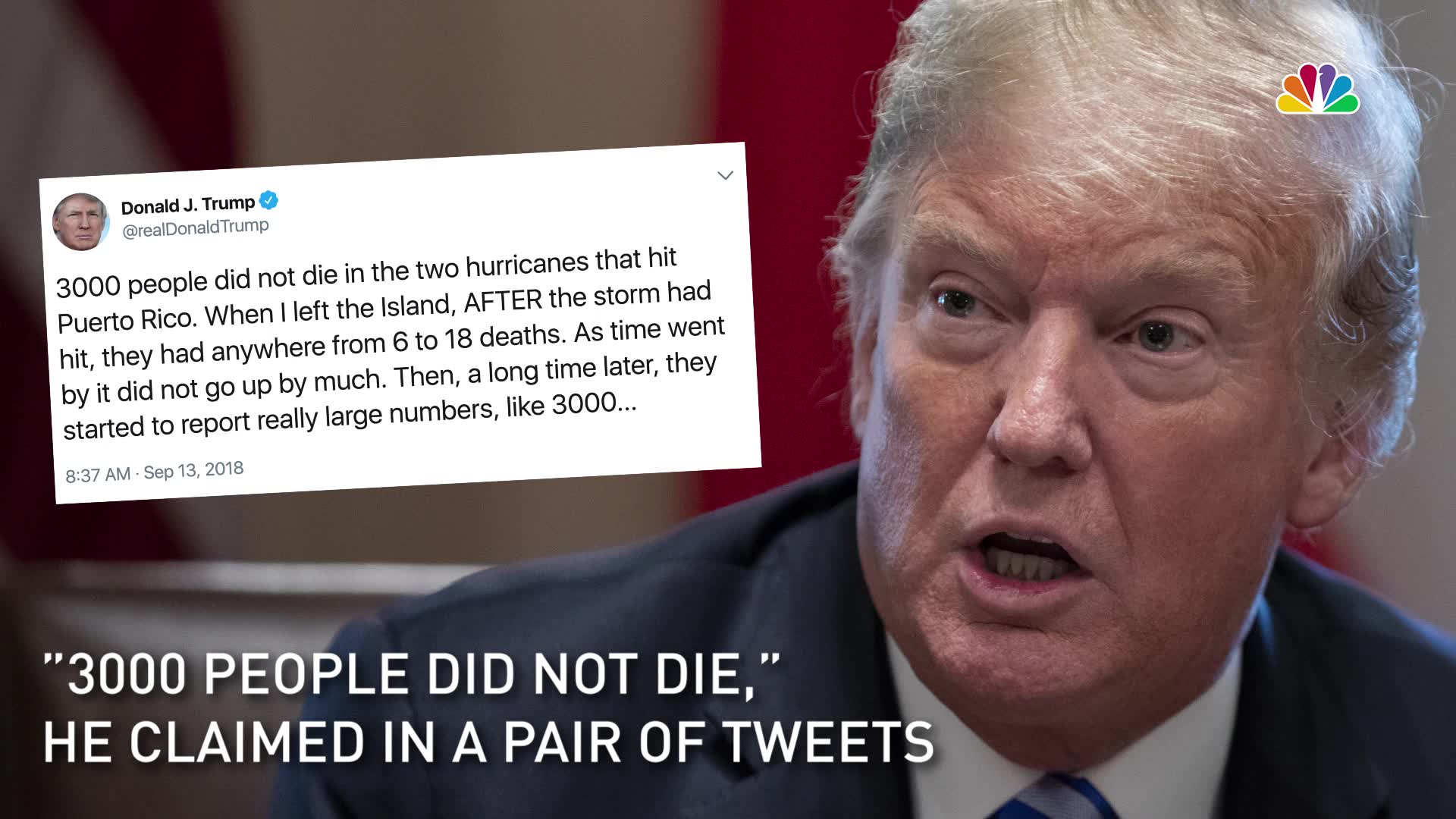 President Donald Trump denied the updated death toll in Puerto Rico from Hurricane Maria in a pair of tweets, just as Hurricane Florence was slated to make landfall on the U.S. East Coast. Close to 3,000 people died in Puerto Rico from the 2017 storm, according to an independent study commissioned by its government.
(Published Thursday, Sept. 13, 2018)
"Professor Christine Blasey Ford deserves to be heard and Judge Kavanaugh deserves a chance to clear his name," Manchin said.
Associated Press writers Brian Slodysko, Juana Summers, Nicholas Riccardi and Bill Barrow contributed to this report.
Copyright Associated Press