Kevin Winter/Getty Images Entertainment/Getty Image
The Emmy Awards Joke They've 'Solved' Hollywood's Diversity Problem, But Maybe It's Not What You Think
So good news everyone: It looks like the massive diversity issue in Hollywood has been solved. You know, because one glorious Asian actress named Sandra Oh was nominated for Best Actress at the 2018 Emmy Awards? That should be fine, right? Maybe not… the Emmy Awards joke they've "solved" the diversity issue, and of course it totally highlighted a very real divide in maybe the best way.
The 70th Emmy Awards at the Microsoft Theater got off to a banging start. Saturday Night Live pros Kenan Thompson and Kate McKinnon, who were both nominated for Emmys for their brilliant work, opened the show. They came out together in killer tuxes and almost immediately broke into song… a song called "We Solved It." It was a nod to previous years at awards shows, including the Emmys and the Oscars, where diversity has been a serious issue. Where it seemed as though the majority of awards were handed over to white, straight men and women and ignored the talented work of other cultures. Thompson and McKinnon addressed the issue head on in a bold and unexpected way with their song "We Solved It." Some of the lyrics? In relation to Oh's historic nomination for Best Actress in a drama for her work on Killing Eve: "There were none and now there's one; see? We solved it!"
Oh's hilarious reaction: "It's an honor just being Asian."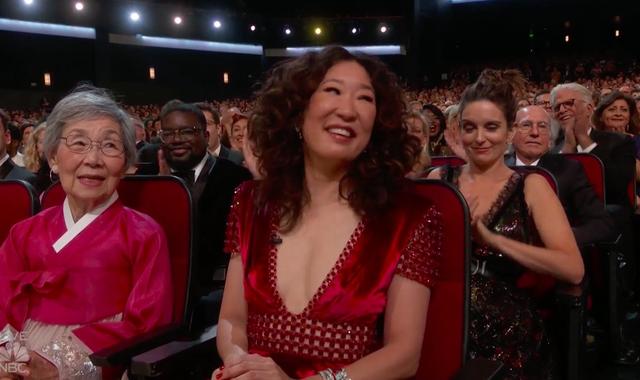 Entertainment Weekly
"Thank you but it's an honor… just to be asian." – Sandra Oh #Emmys
Before the two broke into song to celebrate "solving" the long-standing diversity issue in Hollywood, Thompson (with his tongue ever so firmly in cheek):
This year's Emmy Awards has the most diverse group of nominees in Emmy history. Yes indeedy. One step closer to a black "Sheldon." I'm going to go ahead and say it. We solved it.
McKinnon responds, "Diversity is not a problem in Hollywood anymore?" with Thompson responding, "Nope! We solved it!"
Cue the dancing and singing and star-powered back up singers seemingly mocking the awards show's tepid attempts to add diversity to their proceedings.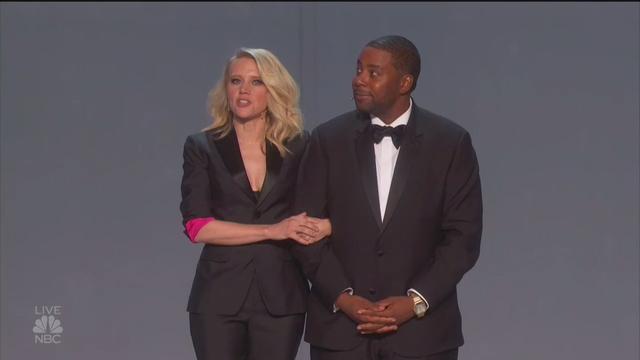 BuzzFeed Arts & Entertainment
"Diversity is not a problem in Hollywood anymore?" "Nope, we solved it!" #Emmys
This could have been a super awkward performance, I think, particularly when one of the performers was a white blonde woman. Fortunately there were plenty of people to support the two with their song. Sterling K. Brown from This Is Us came out, Tituss Burgess from Unbreakable Kimmy Schmidt, The Good Place's Kristen Bell, and even Ricky Martin came out to bust a move because he proclaimed the song "too white." Ru Paul also came out at the very end of the skit with a telephone for Thompson, apparently telling him the bad news; nothing has actually been solved, unfortunately. Shocker.
USA TODAY Life
We solved it! The #Emmys musical opening number was a festive and hilarious way to kick off the show: https://usat.ly/2xsaGOL
While plenty of people loved this opening, a few eagle-eyed viewers couldn't help but notice that a song about diversity was lacking one important element: a black woman.
A. Michaelson
No Black women in this "we solved it" skit. Must be an oversight… #Emmys
Felonious Munk
No Black Women? That "we solved it" sketch was so accurate #emmys #emmys2018
It's an unfortunate oversight, particularly when the song ended on such a high note; with John Legend singing. I mean, come on guys, that actually could have been perfect. Another element that didn't help the diversity joke? The first six Emmys went to white people.
Clearly, nothing has been solved yet.