In case you missed it, Senator Corey Booker made himself look like the ultimate toolbag with his bizarre statements comparing his stunts during the confirmation hearing with 'Spartacus'.
Fast forward directly after the hearing and he is telling reporters that he has constitutional immunity from even being asked about his statements during a Senate hearing, as he is walking to and from the Senate floor.  He's technically right.  But just even more strange and bizarre.  I can only hope the Democrat party are dumb enough to run him under their ticket for the 2020 Presidential race.
The Washington Times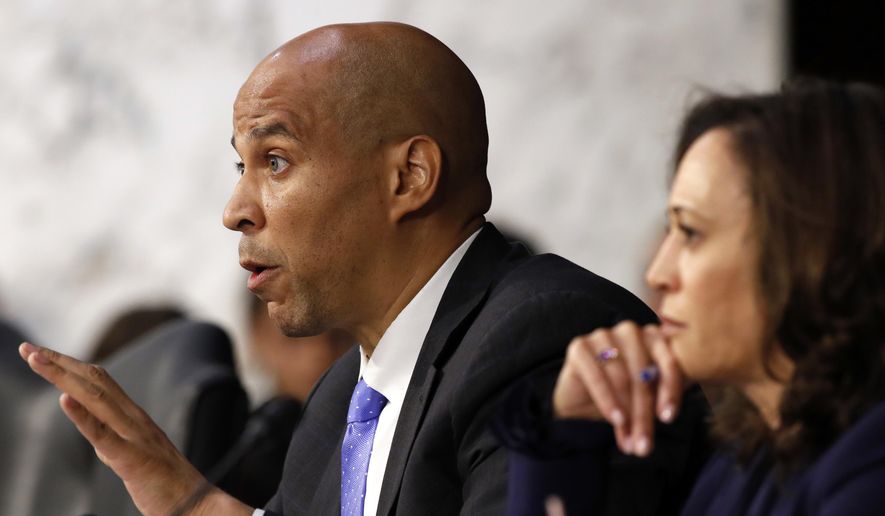 By Douglas Ernst – The Washington Times – Thursday, September 6, 2018
Sen. Cory Booker claimed Thursday that a journalist with The Wall Street Journal was violating the Constitution by asking him a question regarding his failed "Spartacus" moment before the Senate Judiciary Committee.
The New Jersey lawmaker who made national headlines with his assertion that he was releasing confidential documents on Judge Brett Kavanaugh (which turned out not to be confidential), was in no mood to answer Byron Tau's questions on it.
Mr. Booker seemingly referenced a Speech or Debate Clause of the Constitution to dodge a question on political theatrics.
"Democrats knew full well that the documents that Booker and Hirono released this morning were no longer confidential, according to D+R lawmakers and aides," Mr. Tau tweeted. "I asked @CoryBooker if his remarks in committee were a stunt. He told me I violating the constitution by being in his way."
The New Jersey lawmaker did not respond to the tweet.
The clause in question states: "The Senators and Representatives shall receive a Compensation for their Services, to be ascertained by Law, and paid out of the Treasury of the United States. They shall in all Cases, except Treason, Felony and Breach of the Peace, be privileged from Arrest during their Attendance at the Session of their respective Houses and in going to and returning from the same; and for any Speech or Debate in either House, they shall not be questioned in any other Place."
Mr. Booker told lawmakers earlier in the day that he would release "racial profiling" documents from the administration of former President George W. Bush to prove they were not related to "national security."
"This is about the closest I'll probably ever have in my life to an 'I am Spartacus' moment," Mr. Booker told lawmakers.
There was just one problem with the Democrat's defiant stand: the documents on racial profiling were approved for release overnight.
"We cleared the documents last night shortly after Senator Booker's staff asked us to," confirmed Bill Burck, Bush's presidential records representative, the Washington Free Beacon reported.
"We were surprised to learn about Senator Booker's histrionics this morning because we had already told him he could use the documents publicly. In fact, we have said yes to every request made by the Senate……."