George Soros paying people to act as protestors at the "March For Our Lives" is an unproven claim. There is a claim circulating social media that the Hungarian-American billionaire of liberal causes paid $300 per person to act as a protestor at the rally "created by, inspired by, and led by students across the country who seek to no longer risk their lives waiting for someone else to take action to stop the epidemic of mass school shootings that has become all too familiar."
The march was organized by survivors of the Parkland, Fla., shooting at a high school. More than 200,000 people attended the March for Our Lives demonstration in Washington D.C.
Where did this claim originate? YourNewsWire published the news article on March 25, 2018, claiming that Soros had been busted for paying people to act like protestors at the "March For Our Lives" rallies across the country. You can read the news article below.
#MarchForOurLives organizers paid protestors $300 each to attend the March 24 protest in Washington, D.C, according to reports.

Journalist Jacob Wohl found ads posted on Craigslist where Soros organizers looked to recruit paid protestors to attend the march.

"Here's just one of many of the Craigslist ads where Soros Organizers were recruiting PAID protestors for #MarchForOurLives ! Don't expect the MSM to talk about this," the Editor In Chief for The Washington Reporter tweeted.

"Here's one of the ads that was posted by #MarchForOurLives organizers seeking PAID "street-teams" in Washington DC."
However, the claim remains unproven. YourNewsWire has a long history of publishing sensationalized and false content. YourNewsWire carries the following terms of service on its website:
THE PEOPLE'S VOICE, INC. AND/OR ITS SUPPLIERS MAKE NO REPRESENTATIONS ABOUT THE SUITABILITY, RELIABILITY, AVAILABILITY, TIMELINESS, AND ACCURACY OF THE INFORMATION, SOFTWARE, PRODUCTS, SERVICES AND RELATED GRAPHICS CONTAINED ON THE SITE FOR ANY PURPOSE.
Maarten Schenk of Lead Stories rated the story as false because there was no proof that any money was actually paid exchanged. Lead Stories explained that based upon the alleged figures being offered, it would have cost Soros between $25 million and $240 million for the Washington marchers.
With his left-wing views and deep pockets, The Washington Post published an interesting piece about how the New York-based financier and philanthropist has become the ultimate boogeyman for far-right ideologues, demagogic despots, tin-hat conspiracy theorists and anti-Semites the world over.
As for the YourNewsWire story, that site noted a Craigslist ad see below. The ad itself appears to be calling out people to sale merchandise at the event.
MARCH FOR OUR LIVES anti-gun violence protest! Street team! CASH PAID (Los Angeles)

WE ARE HIRING UP UNTIL FRIDAY EVENING AT 7 PMSTILL HIRING 20-25 outgoing salespeople to sell merchandise at the gun March for Our Lives gun control protest.

50,000-100,000 people expected at Pershing Square in downtown L.A. SATURDAY, MARCH 24thWe will be selling March for Our Lives buttons, flags, wristbands, etc Hours 7:30 am – 2 p.m.

Earn 20% commission on your sales. Average $120- $300++ CASH PAID

We have worked many resistance events, Women's Marches, etc. in L.A. over the last year. Our top sales people earn $200-$400+ per event!
This ad gained attention, when Jacob Wohl tweeted out this Craigslist posting to his followers. Wohl said he was offered money to come even though the positions were filled to sell merchandise.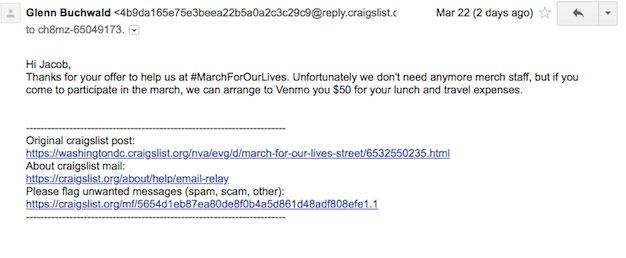 "Hi Jacob, Thanks for your offer to help us at #MarchForOurLives. Unfortunately we don't need anymore merch staff, but if you come to participate in the march, we can arrange to Venmo you $50 for your lunch and travel expenses."
A little about Wohl. Wohl describes himself in his Twitter profile as a "Trumpenomics Expert" and a financial and political commentator. Bloomberg Politices said Wohl has already been investigated by the U.S. Securities and Exchange Commission and has been retweeted by President Donald Trump.
Here are some reactions on social media to the claim that Soros paid people to attend the rally.

So, who really is behind the March for Our Lives? 1) Michael Bloomberg 2) Warren Buffet 3) George Soros via ActBlue 4) DNC. This is the real story.

Payed: Soros Paid March For Our Lives Protestors $300 Each… what a world we live in
"March For Our Lives"Was A Set Up! Soros & Dem's Paid Heavily To Ship In Pro's For Cause & Effect! Trading In Daca For Parkland Ginny Pigs! Sad, How Corrupt These Soro "Hitler" Followers Are! Students Get Educated….Fast!
Soros founded the Open Society Foundations (OSF) which financially supports civil society groups around the world, with a stated aim of advancing justice, education, public health and independent media. Since its founding, OSF reported expenditures of over $11 billion.
What did you think of the claim that Soros personally funded the March For Our Lives by paying people to act as protestors? Have you seen evidence further to support this claim? What is your opinion on the protest and the Second Amendment? Let us know in the comments section.
[George Soros, Billionaire, Paying March For Our Li…] http://www.topbuzz.com/article/i6536994278709658121?user_id=6489212005084300298&language=en&region=us&app_id=1106&impr_id=6546362984959052042&gid=6536962802627346697&c=sys